Extension to 10/12/23 : Esther Carp and Garfinkiel at the MAHJ
As part of the exhibition devoted to the artist Esther CARP (1897-1970) at the MAHJ, hangs a painting by David Garfinkiel « Le vernissage ». This work represents a vernissage attended by many members of the community of Jewish artists and critics of the 1950s. Among them, Esther CARP with her white hat is seated on the left. S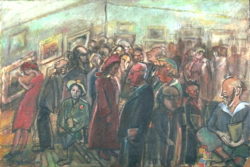 he was very close to Garfinkiel and his family.
2 Garfinkiel artworks at auction Bonhams Ecole de Paris 3/3/ 2021
Two works by David Garfinkiel (lots 76 and 77) representing weddings will be put on sale by the house BONHAMS Ecole de Paris 1905-1939, The Jewish Artists, on March 3, 2021
(Catalog on www.bonhams.com/auctions/26977)
A portrait of David Knout drawn by David Garfinkiel
A portrait of David Knout made by David Garfinkiel in 1941 in Lyon during the War is presented in the Galleries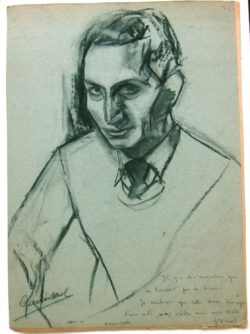 Lecture on David Garfinkiel in Radom (Poland)
The life and work of David Garfinkiel was presented by his daughter Edith Chomentowski, in his hometown, Radom, Poland, during the Jewish Culture Week organized by the Resursa Cultural Center on Thursday, May 16, 2019
MAHJ David Garfinkiel self portrait exposed
The David Garfinkiel self-portrait  entered in the collections of Musée d'art et d'histoire du judaïsme (Paris) is exposed until 2019 January 13 in the exhibition « Hommage aux donateurs »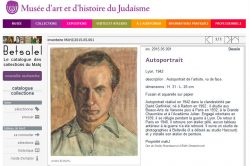 clik to read the cartel
Exhibition at the Polish Library of Paris
From the 6th to the 30th of September 2017, an exhibition of about twenty paintings by David GARFINKIEL will be presented at the Polish Library of Paris (Société historique et littéraire polonaise, BIBLIOTHEQUE POLONAISE DE PARIS), 6 quai d'Orléans 75004 PARIS.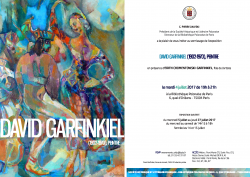 Discover the book: School of Paris, David Garfinkiel
The monograph on David Garfinkiel was written by Marie Boyé-Taillan,
art historian, under the  direction of the painter's daughters,
Gisèle Rozenbaum and Edith Chomentowski. The beautiful reproductions
give a good overview of the rich palette of the artist.
Paintings of Garfinkiel at Galerie Saphir
Paintings by David Garfinkiel are on display at the Galerie Saphir (69 rue du Temple, 75003 Paris) .